The word "Ergonomics" comes from two Greek words: "Ergon", meaning work, and "Nomos" meaning "Laws". Today, however, the word is used to describe the science of designing the environment to fit the person, not forcing the person to fit the environment.
Ergonomics, is the engineering science concerned with the physical and psychological relationship between machines and the people who use them. An ergonomic designed kitchen is based around your actual needs and the way you intend to use your kitchen and all its equipment. A good ergonomic design will make your kitchen more comfortable to work in and more convenient to use, as well as using all the available space to it′s maximum advantage. As well as lateral movements, heights should also be considered.
The movement abilities of the human body are the fixed parts of the equation. We are not going to alter the body to fit the environment. So to make work more efficient, we have to alter the environment to fit human movement. We want to minimize movement by eliminating unnecessary steps and make the kitchen usable by all of the individuals in a household. Every aspect of kitchen design is being given a new, hard look, from countertop and toilet heights to the optimum placement of the microwave and dishwasher and the best depth of the kitchen sink.
Ergonomic Kitchens on Use Storage
Every item should be stored at its point of first use. The bowls you use to prepare food should be stored where food is prepared, not across the kitchen with the other bowls. We tend to store items with like items: bowls with bowls, knives with knives, platters with platters. But that's not how we use them. Store things where you use them, it saves a lot of walking. If you fill pan and pots for cooking at the food preparation center, pots and pans need to be stored where food is prepared, not where it will ultimately be cooked. The prep area is the point of first use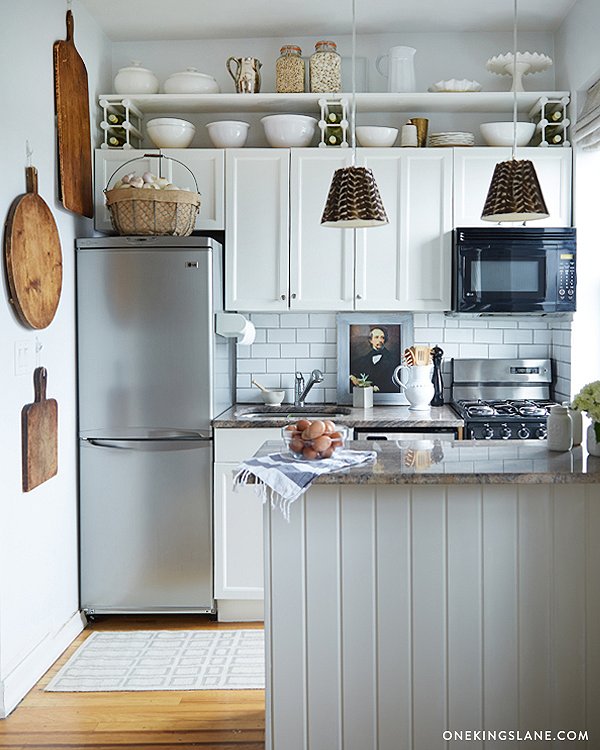 Use Cabinet for Drawers, Not Doors
Cabinets with large drawers for plates, cookware and small appliances, allowing you to see and retrieve the contents without having to duck under a counter or crawl into the cabinet to find what you need.
Add A Sprung Floor And Some Comfort
With the amount of time we spend standing up in the kitchen, the ergonomic benefits of a sprung floor cannot be ignored. Add some other creature comforts while you're at it to make your kitchen a joy to cook in: music, some seating, plants and potted herbs.
Ergonomics Lighting for the Kitchen
General 300 lux and Counter top 750 lux, the most important lighting is ones under the kitchen cabinets where you prepare your food and when you are cooking.
When you are using a knife and chopping food, you'll need sufficient light all around, because you are in a potentially hazardous situation. A spotlight, a lamp is not enough.
When you are cooking, you need that extra burst of light above the stove. Sometimes when you are cooking with a low fire, it is almost translucent and you may leave the stove on overnight or burn yourself.
"Flip" Over Cabinets
When developing your design, Levenstein also recommends rehearsing the way you'll use your cabinets to make sure the doors open properly. "If they're placed to open the wrong way, it adds a lot of ducking and double maneuvers," she says. Drapaca suggests another option: European-style cabinets in which the door flips up, rather than to the side.
Clever Solutions for Tricky Corner Cabinets
Gone are the days of stretching into deep corner cupboards, thanks to carousels that spin internal shelves around like a lazy Susan (pictured) or systems such as the LeMans, which swing the contents of your corner cupboards into the kitchen.
Dishwasher on Ergonomic Kitchen
The dishwasher is an ergonomic disaster. It's much too hard to use. You have to bend and stoop and bend and stoop to load and unload it. You have to spend a lot of time opening and closing the top tray to reach the bottom tray. The bottom-hinged door gets in the way of people moving around the kitchen. It is not a very user-friendly appliance. Very recently dishwasher manufacturers have started putting dishwashers in drawers, a much more back-friendly design. Still expensive and, rumor has it, prone to breakdown, these are at least heading in the right direction.
Give Floors Some "Bounce"
Even floors count, says Drapaca. In place of terra cotta, stone or ceramic tile, Drapaca recommends using "bouncy" materials like wood, rubber and especially cork, which are easier on feet and legs. Alternatively, you can try placing mats or small rag rugs (with nonslip padding) in strategic areas say, by the counter, stove and sink.
Oven on Ergonomic Kitchen
It's pretty clear that the folks who decided to put the oven below the rangetop never tried to lift a 30 lb. turkey into our out of one. Ideally the oven door should be waist high, not hugging the floor. A single wall-oven set at so the bottom of the oven door is about 32″ from the floor (not the usual 36″) is the ideal arrangement. If you really need a double wall oven then expect one or both of the ovens to be either too high or too low. The trade off, of course, is cost. You can expect a cooktop/wall oven combination to cost at least twice as much as a range with built-in oven.
Ergonomic Italian Kitchen Design Suitable For Wheelchair Users
The simplicity of this functional smart kitchen Skyline_lab by Snaidero designed by Lucci & Orlandini eliminates complexity to make it suitable for any user including someone in a wheelchair.
The ergonomic countertop has an enveloping shape that allows a seated person to reach every area and every object they need. The edge is rounded and free of corners. The space under the worktop is completely free and accessible.